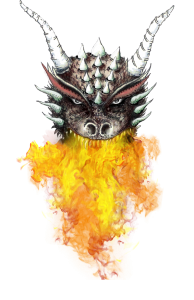 Yes, this dragon is amazing!
Sonia Frush created "Peril" based on the "fire" generated from the original whitepaper, "The Perils of Firetube Condensing Boilers", published nationally January of 2020 and available at https://www.thermalsolutions.com/news/the-perils-of-firetube-condensing/.   The article showcases the "me too" movement in the industry of similar vertical designs and the "Peril" placed upon engineer, contractor, and owner by using the "accepted" standard.  "We can do so much better than unserviceable and throw away commercial condensing boilers," states Ms. Frush.   The T-shirts were a huge hit and we are getting requests for other items to feature Peril.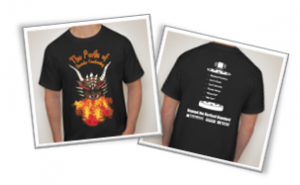 Thermal Solutions proudly displayed the AMP condensing boiler and water heater series from 1000-4000mbh and the Arctic Condensing Series from 1000-6000mbh at AHR Orlando.  Both products eliminate peril and are serviceable, unlike any other condensing products in the industry.  Follow @ThermalSolutionsProducts on LinkedIn to get the latest updates on "The Perils of Vertical Firetubes"!