Hydronics Applied to Aquatics
The Newtown Athletic Club is an elite health and wellness center 30 miles northeast of Philadelphia.  It's known for its premium amenities, pristine facilities and wide variety of fitness programs.
"We're constantly seeking innovative ways to improve our operations and deliver exceptional experiences to our members," said Amanda Sinkler, general manager at the Newtown Athletic Club (NAC).  "Outsourcing projects to industry experts allows us to tap into specialized knowledge and skills that may not be readily available among our in-house teams.  That was the case this spring when we renovated all of our aquatic facilities."
NAC's pool facilities include an adult pool, spa, splash pad, activities pool, a lazy river and a water slide, making it as much a water park as it is a fitness facility.  Ownership at NAC decided to reface the entire aquatic area, to include new plaster, tile and coping.  Pool lights were upgraded with LEDS, and the slides and play structures were refinished.
"All aesthetic elements were upgraded, but we also wanted to improve the quality of the pool water and retrofit the pool heating system for greater energy efficiency," said Sinkler.  "We found a solution that would cut our natural gas expenses by $40,000 per year."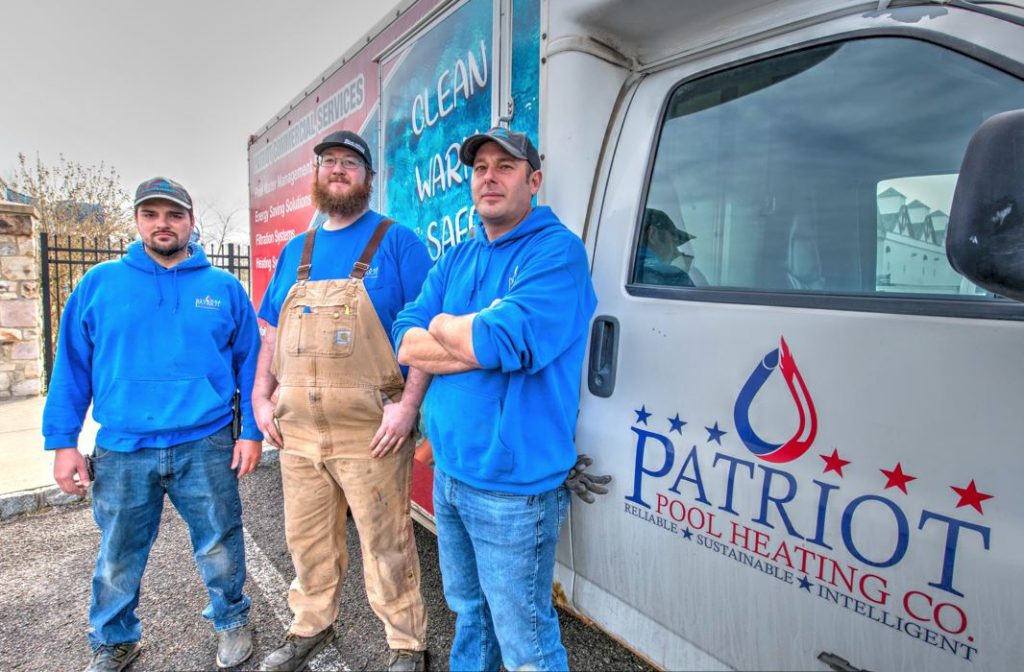 Finding the right professionals
In early 2022, NAC's pool maintenance contractor contacted Patriot Water Works, a pool heating and chemical treatment specialist in Kirkwood, PA, to inquire about replacing the four, 1.8 MMBTU atmospheric pool heaters.  Nothing came of the conversation until November, when Tara Barto, Patriot's business manager, called the CFO at NAC directly.
After several conversations about fuel efficiency and water quality, planning began for a large-scale retrofit for the spring of 2023.
By the time Patriot arrived onsite, the existing pool heaters had already been removed.  Replacement heaters had been stored in the mechanical room, and it was NAC's hope that Patriot could install them.
"We found that the units purchased for the project were DHW volume water heaters, not pool heaters," said Tom Soukup president of Patriot Water Works.  "The primary difference is that most volume water heaters have a copper heat exchanger, while a pool heater uses a cupronickel heat exchanger to better withstand the corrosive properties of pool water.  I checked the model number and confirmed that the units couldn't be installed."
Soukup worked with Don White, Patriot's design and project manager, to plan a robust heating system to outperform and outlast conventional pool heating equipment.
Hydronic by design
"We've conducted new and retrofit pool heating projects for retirement facilities, condo and apartment complexes, resorts, hotels and water parks," said Soukup.  "The pool heating method we employ – utilizing high efficiency boilers as opposed to pool heaters ­­– has proven time and again to reduce maintenance, lower fuel consumption, provide greater setpoint temperature accuracy and extend system longevity.  It's an unconventional approach in the aquatics industry, but it works very well."
There's no single key to successfully creating a pool heating system that will function for decades, but it definitely starts with design.  Choosing equipment built for long-term, reliable performance is also critical. Eliminating contact between corrosive pool water and the heating appliance is critically important.
Patriot's approach is to treat pool heating applications just like a hydronic system, though the boiler is isolated from the load with a heat exchanger.  To generate a heat load calculation, Soukup considers the different setpoint temperatures needed in each body of water, along with the water volume and surface area.  Ambient air temperature and wind factor are the most significant sources of heat loss.  The total water volume and surface area at NAC are 248,052 gallons and 11,384 square feet, respectively, though setpoint temperatures vary from pool to pool.
The adult pool is maintained at 86°F.  The spa remains at 101°F and the activity pool and lazy river are 82°F.  With two small additional zones of heat for an indirect-fired water heater to serve the café and two, 100,000 BTU hydronic unit heaters to keep the mechanical room from freezing, the hydronic system at NAC needed to serve six zones for a total of 5.9 MMBH.
"We designed the system around a 40°F Delta-T and specified two, 2.5 million BTU Thermal Solutions AMP boilers in a lead-lag configuration," said Soukup.  "This reduced the total firing capacity by 2.2 million BTUs, compared to the original system, not to mention stepping up from atmospheric units to the 97 percent efficiency offered by the AMP."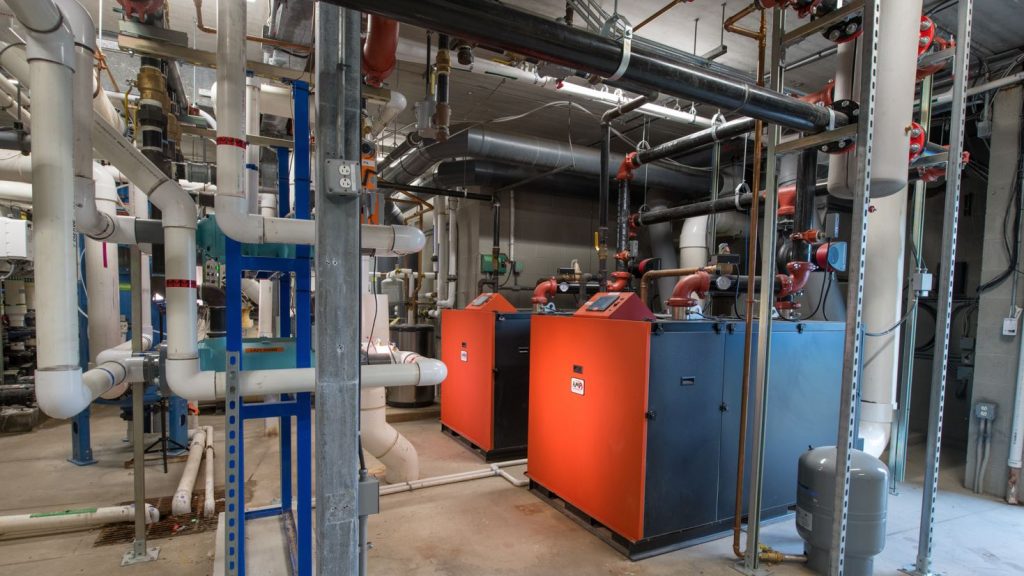 The AMP is a stainless steel, water-tube boiler designed to maximize firing capacity within a limited footprint.  Available in capacities from 399 to 4 million BTUh, the AMP series provides up to 10:1 turndown ratio.  AMP-L models 399-1000 can be stacked two high and requires zero side and top clearance.  AMP models 1000-4000 can be stacked using an available racking system.
The secondary loop includes four titanium heat exchangers made by Bowman, used to transfer heat from the primary loop to each pool.  The shell-and-tube design and titanium construction of the heat exchangers provide low head loss, efficient heat transfer and superior corrosion resistance to isolate pool water from the primary hydronic loop.  Each of the heat exchangers, with capacities between 800 MBH and 2.5 MMBH, are served by Belimo control valves.
Looming deadline
The installation began in early May and needed to be complete and operational by the middle of the month, in time for a large wedding at NAC.  Five Patriot technicians, led by Rich Zalepa, technical service manager, all but lived in the mechanical room for two weeks.  They had been onsite earlier, retrofitting the pump room and making electric upgrades, but when the focus shifted to the boiler system, there was no time to spare.
"We were expecting to re-use the existing AL29-4C venting, but then realized that it had been installed backwards," said Zalepa.  "We abandoned it, along with the chase that ran through the roof, and used 10-inch Centrotherm polypropylene venting through sidewall penetrations.  Centrotherm installs faster than anything else on the market and we use it on all of our condensing appliances."
"The rest of the installation went smoothly," he continued.  "The boilers and heat exchangers piped up quickly and we fired the system a day ahead of the deadline.  The control on the AMP is phenomenal and probably saved half a day.  It's a much more robust control than I'm used to when working with light commercial boilers.  The relays are set up perfectly for external pumps, there's a lot of versatility and the touchscreen interface provides a lot of information and fine adjustment."
Maintenance, savings and longevity
Patriot upgraded everything in the mechanical, pump and filter rooms with efficiency and service life in mind.  Even the pool water pumps are now VFD-driven.  But the best components in the industry will fail prematurely if they're not maintained properly.  That's why the company provides a five-year warranty with five-years of preventative maintenance included.
"We hired Patriot Water Works based on their depth of knowledge, which was evident, but also because of their warranty, maintenance agreement and their promise of energy savings.  Over the next five years, based on current energy prices, NAC will save $187,000 in natural gas expense."
That's a bold promise to make, but experience has provided Soukup with the confidence to do so.  Whenever he visits a potential pool heating customer, he always conducts a net BTU test to determine exactly how much heat is actually entering the body of water, as opposed to making calculations based on the appliance rating.
To do this, a flow meter is installed on on the effluent side of the heater and readings are taken.  Thermometers are installed on both the influent and effluent sides of the heater, which will provide the Delta-T across the heating appliance.
In his Soukup's experience, the vast majority of conventional pool heaters that have been in service for more than five years operate at about 50 percent efficiency, despite being rated for 83 percent.  The same test, when conducted post-retrofit on the titanium heat exchangers that Patriot installs, yields just a few percentage points below the boiler's rated efficiency: 94 to 95 percent.
"I believe that using a hydronic approach with high efficiency boilers is the future of the aquatics industry," said Soukup, whose systems consistently maintain pool water temperatures within two degrees of setpoint.  "I think that the industry will push and pull for it; meaning that efficiency standards will continue to rise, mandating the use of high efficiency products, and customers are beginning to demand more robust, longer lasting solutions.  Boilers are the answer in either case."
#        #        #