"Submarine Duty Taught me Well"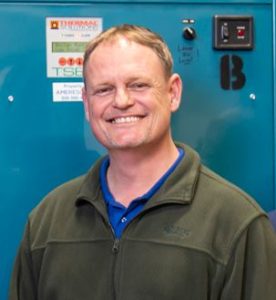 Born in San Jose, CA, Jeff Seveland thrived amidst the lush warmth of central California.  His father was a Navy man, and it seemed that every other kid in school grew up in a military household.  So it only made sense that, shortly after completing high school, then two years of automotive tech school, he enlisted in the U. S. Navy.
Seveland spent five of his best years ('95 to '99) as a machinist's mate in the Navy.  At 6'3", he's no easy fit for submarine duty, but that was the assignment.
"As it turned out, Navy submarine duty was a great fit for me despite the dozens of head wounds I suffered hitting the bulkhead," Seveland recalled, his hand involuntarily moving to his rub his scalp.  His duty included seven months at sea in both South America and in the Mediterranean Sea.
"One thing's for sure," he quickly added.  "Working on a submarine and its wide range of equipment was the perfect entry point, and training, for my jump into boiler work as a civilian.  He explained that, on the sub as an "A-Ganger" (critical services crew), he serviced refrigeration equipment, oxygen generators, CO2 scrubbers, high pressure air and hydraulic systems, and a wide range of other mechanical and HVAC equipment.  Choosing not to reenlist, Seveland was quickly hired as a building technology and commissioning technician with energy services companies.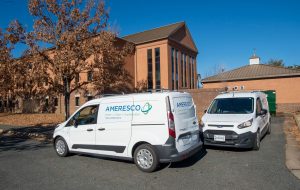 Quantico-bound
It was while Seveland was in his early years in the energy services industry that he was assigned to Quantico, VA where he commissioned and installed new commercial boilers. "Funny how things change:  I expected automotive, but boilers won the decision.  The jobs I took were a great fit for me, made to order for the type of work I like most and am good at."
Quantico is headquarters for many training institutions, including the Marine Corps, the Naval Criminal Investigative Service and the FBI and DEA academies – though is best known as the largest Marine Corps base with 12,000 Marines.
"There was plenty of low pressure cast iron equipment, high pressure steam systems and an assortment of firetube and watertube boilers that needed attention at Quantico.  "I guess that's what they call job security," he said, smiling.
Soon after, Seveland joined Framingham, MA-based Ameresco, a leading renewable energy and energy efficiency company offering Energy Savings Performance Contracts (ESPC) for federal agencies, funds used to provide energy solutions for public and private organizations.
"Fortunately, after so many years of preparing for the perfect job – with training and experience that fit me like a glove – the move to Ameresco was the best fit of all."  Today, as Ameresco's O&M Site Supervisor for Quantico, Seveland – now 19 years into fulfilling the company's 25-year, $1.1 million annual contract there – directs the efforts of a team of employees on the base.
Today, Quantico includes 80+ Marine Corps buildings for a total of more than 1.2 million square feet.  Through its ESPC contract, Ameresco provides predictive and preventive maintenance, condition monitoring, commissioning, repair and equipment replacement services.  Boiler maintenance is an important facet of this, one that also includes maintenance and replacement of pumps and circulators, valves, controls and water treatment systems.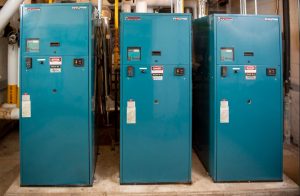 Building 15
Among the many Marine Corps facilities at Quantico, Building 15 is a typical residential quarters.  According to Seveland, Building 15 is served by three boilers – two for space heating and one for domestic hot water (DHW).
"As is often the case, if one boiler failed, another could jump in to meet heat demand," he said.  "Even if the DHW boiler would go out, either one of the other space heat boilers could be adjusted for service.
"All three boilers have served the facility well since their installation in 2003, so we plan to replace the three units soon, preventively," he added.  Building 15, he explained, consists of three floors, including the basement and rooftop levels, 80,816 square feet, and 114  residential rooms, each with its own bathroom, and many other common area bathrooms.
With so many Marines on base, it doesn't take a military strategist to understand the need for many residential buildings at Quantico.  Banish from your mind any recollection of WWII-type boot camp barracks.  The Marines on this base have earned the right to a good night's sleep in real beds, hot meals, and bathrooms with plentiful hot water.
Boiler of Preference
"The provision of space heat and domestic hot water is our key focus at Quantico," added Seveland.  "With so many large boilers and volume water heaters on base, we know a thing or two installing, maintaining and servicing hydronic heating systems."
Ameresco teams, including Seveland's, work to find the most innovative and best fit equipment and technology for each project.  They found the best-fit for installations at Quantico to be  Thermal Solutions' Evolution boiler.  "We were first introduced to these systems back in 2006."  The boiler he refers to is a copper fin-tube constructed, with water-backed tube sheets and maintenance-free burner.
The Evolution boiler's burner features a large surface area and lower flux that allows for high heat transfer and more uniform heating, extending the life of its copper tubes.  A sturdy cast-aluminum blower assembly, fitted with a replaceable combustion air filter is used to keep the burner free of contaminants.  The Evolution boiler can be operated with its jacket panels removed during inspection to avoid nuisance problems associated with pressurized compartments.
Ameresco knows a thing or two
By design, the low NOx, modulating boiler's ceramic radiant burner rarely requires inspection or maintenance.  The non-condensing boiler's (with 250, 500, 750, 1,000 or 2,000 MBH sizes) provide up to 87% efficiency.
Seveland explained that, at Ameresco, experts are on call 24/7/365.  "There's no real downtime.  Sure, things tend to quiet down during the holidays, but because of our ongoing, routine maintenance and our familiarity with the equipment, we're still on call."
"All of the equipment on base must be properly and consistently serviced and maintained," he continued.  "I take great pride in having a tight maintenance program.  In addition to the routine boiler service work – and thanks to sophisticated building automation controls and fiberoptics – we continuously monitor temperatures and pressure in all of Quantico's buildings.  If any temperature goes out of range, sensors alert us.  We reply long before an alarm goes out, long before base personnel know of an active issue."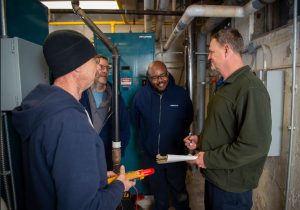 Old and new
The existing storage tank at Building 15 is more than 50 years old, but is still doing its job well.  A shell and tube heat exchanger works in concert with a 1,500-gallon storage tank.  "It's aging, but continues to perform well," he said.  "It dates back to the days when the base had a central heating plant that's since been decommissioned.  In this case, the old adage applies:  If it ain't broke, don't fix it.
"We helped decentralize heating operations many years ago when it was recognized how much heat was being lost in the distribution of heat throughout the base," added Seveland.
Seveland explained that, early in his tenure at Quantico, many of the boilers were large, cast iron, low-pressure behemoths, and some high-pressure steam boilers, with an assortment of firetube and water-tube boilers.
Many of the Evolution boilers are 1,500 MBH in capacity.  Some of them contribute to both the space heating and DHW loads.  Typically, for residential buildings there, Seveland and his crews pair-up- a heat exchanger to a boiler to heat domestic water that's stored in large, insulated storage tanks.
All boilers installed during the big ESPC project at Quantico receive routine combustion efficiency testing by Ameresco pros, and monitoring of water quality.  He added that, every 10 years, the Evolution boilers are taken apart – an easy task given their removable jacket design – serviced, cleaned, and reassembled.  The service work includes a re-sealing of the combustion chamber.
"We've settled on a good recipe for reliable heat production at Quantico," concluded Seveland.  "After all – if you were responsible for keeping 12,000 Marines comfortable – wouldn't you choose equipment you could rely on?"
#   #   #
Sidebar:
Quantico – unique among military bases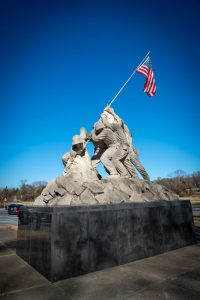 Since its establishment in 1917, Quantico has been home to many of the nation's most  innovative, intelligent and patriotic men and women.  It's there, at the Crossroads of the Marine Corps, that vital concepts, training and equipment of the future are developed. Some of the most important techniques in warfighting were born there, including expeditionary warfare, for which the Marine Corps is best known.
In 1917, with the US just entering the largest war the world had ever known to date, the small town of Quantico, Virginia became the home of Marine Barracks Quantico, with a complement of 91 Marines and four officers.  The barracks was a training center for recruits, and eventually grew into the nation's largest Marine Corps base, having an excellent position near Washington DC.
In the 1920 and 1930s, Quantico was the center of the development of amphibious assault doctrine, and where some of the early amphibious vehicles were developed. This doctrine gave the USA an advantage in beach assaults over any of the Axis powers in World War Two.
Today the base has completely surrounded the town in almost every way, and in addition to Marine training, hosts the FBI Academy, FBI Lab, the FBI Hostage Rescue Team, the Army CID HQ, the Air Force Office of Special Investigations HQ, the Naval Criminal Investigative Service HQ, the DIA, and the DEA training facility. They are undoubtedly secure under Marine guard.