Innovative Solutions for Heating and Domestic Hot Water Systems
Thermal Solutions provides high efficiency condensing boilers, near condensing boilers and hot water heaters.  We believe YOUR application and specific job requirements should drive product selection.  One technology does not suit all installations.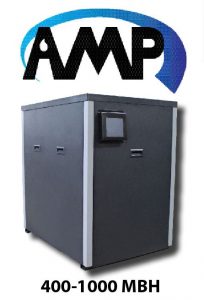 High Efficiency Commercial Condensing: AMP: Innovative high capacity design in 46% less space.  Arctic: the industry's only field serviceable heat exchanger with a lifetime thermal shock warranty.  Apex, light commercial condensing unique in North America, has low waterside pump requirements with water tube longevity.  EVCA (Evolution Condensing): copper platform with decade reliability and high temp (above 200°) condensing operation.
Near Condensing Boiler Solutions:   The Evolution copper series, an industry benchmark for quality, reliability and longevity in near condensing segments for two decades.  Designed for return temperatures of 130° and higher, combine the Evolution with any of our condensing boilers to achieve similar condensing system efficiencies.
Commercial Condensing Water Heaters:   The AMPW Series, now available in sizes ranging from 400-4000 MBH, delivers efficiency and powerful output in a space saving and service friendly design.  The 316L stainless steel heat exchanger features cavernous internal circuits with commercial sized tubes that promote self-cleaning and flushing of waterside particulates.
Accessories: The Conductor Hydronic Sequencer is an optional control that integrates both new and existing boilers (condensing or non-condensing) with Energy Management Systems.