Innovative Solutions for Heating and Domestic Hot Water Systems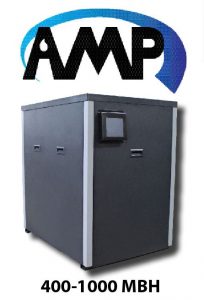 Thermal Solutions is an industry-leading manufacturer of hydronic products including high efficiency condensing boilers, near condensing boilers and hot water heaters. We believe YOUR specific job requirements should drive product selection.  Having shipped nearly 20,000 boilers since 2003, our current lineup features reliable and easy to maintain products backed by our years of expertise and development.  
Thermal Solutions' newest series, AMP, covers all of your commercial condensing boiler and domestic hot water needs. With sizes ranging from 400-4000 MBH it delivers efficiency and powerful output in a space-saving and service-friendly design. The Artic series (1000-6000 MBH) not only meets your high efficiency needs, but also provides a field serviceable heat exchanger with a lifetime thermal shock warranty. These and more are all options for YOUR specific job requirements. Don't take our word for it though. Browse through all our product offerings by visiting our products page here. We look forward to providing proven results for your next commercial or industrial application.